• August 2022 Update on San Diego Real Estate Trends in Late Summer •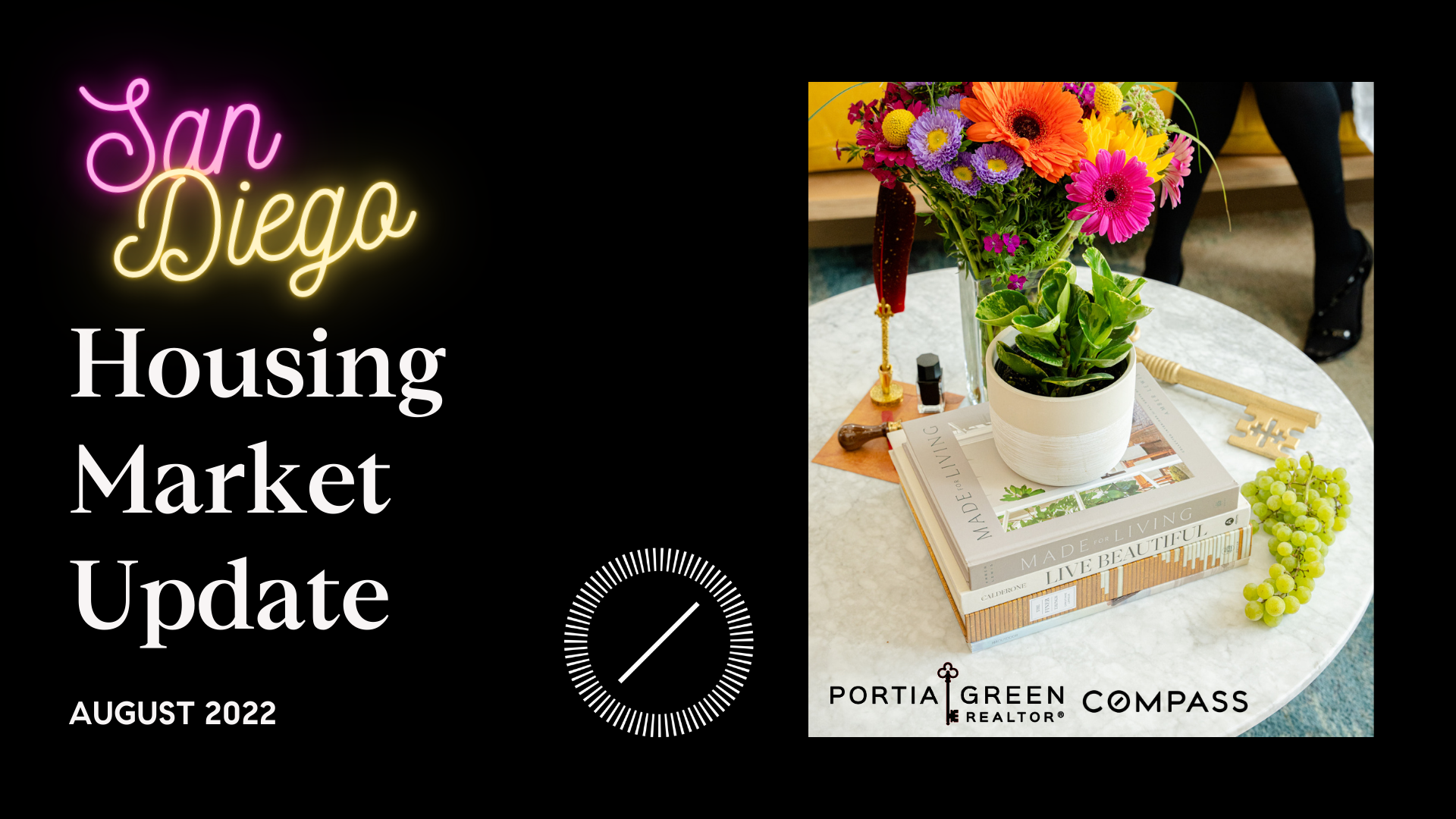 Prices of single-family homes in San Diego County experienced a month-to-month drop of 5 percent in August, to $910,000 (down from its high mark of $1 million in April), but overall resale home sales increased in the late summer heat, according to housing statistics compiled through the San Diego Multiple Listing Service by the Greater San Diego Association of REALTORS® (SDAR).
Although detached properties saw a price cut, the median price of attached properties (condos and townhomes) was unchanged in August. That's not to discount the fact that prices in the county are nearly 15 percent higher year-to-date compared to 2021.
August's single-family home sales increased month-over-month by more than 14 percent and attached property sales rose by 10 percent. Notably, the one-year increase in the number of homes for sale in the San Diego market was 21 percent. Compared to the same month last year, however, sales are down by 30 percent.
"The market is shifting in a more buyer-friendly direction with more inventory of homes on the market for a longer amount of time," said SDAR President Chris Anderson. "Still, inflation and higher interest rates are keeping some buyers on the sidelines waiting for price growth to level out; however, an interest rate hike does more damage to the buyer affordability and qualifying than higher prices. We recommend, if you qualify now, buy now. The housing affordability index in San Diego has slightly improved after a historic low earlier this year, but we must do more to boost our housing supply and expand opportunities for homeownership."
Single-Family Home Prices Drop, Sales Rise in August
In August, the zip codes in San Diego County with the most single-family home sales were:
92028 (Fallbrook) with 52
92065 (Ramona) with 47
92056 (Oceanside East) with 44
92057 (Oceanside North) and 92117 (Clairemont), both with 40
92021 (El Cajon) with 39
The most expensive single-family property sold in August in San Diego County was a newly built modern estate on Clubhouse Drive in Rancho Santa Fe. Featuring dual private offices, a resort-style gym and wellness center, and a pool/spa, the 11,622-square-foot two-story property has 6 bedrooms, 8 baths, and 5 garage spaces. It sold on August 8 for $16,595,000.
SDAR's housing statistics are compiled monthly from the Multiple Listing Service (MLS). Click here for a detailed look at the numbers. The following is a summary of the latest results:
TOTAL SOLD LISTINGS Comparing August 2022 to July 2022 (month over month)
Single-Family: 14.7 percent INCREASE
August 2022 = 1,564
July 2022 = 1,364
Condos/Townhomes:  9.9 percent INCREASE
August 2022 = 902
July 2022 = 821
TOTAL SOLD LISTINGS Comparing August 2022 to August 2021 (year over year)
Single-Family: 30.5 percent DECREASE
August 2022 = 1,564
August 2021 = 2,249
Condos/Townhomes:  33.4 percent DECREASE
August 2022 = 902
August 2021 = 1,335
MEDIAN SALES PRICE Comparing August 2022 to July 2022 (month over month)
Single-Family:  5.0 percent DECREASE
August 2022 = $910,000
July 2022 = $958,125
Condos/Townhomes:  UNCHANGED
August 2022 = $625,000
July 2022 = $625,000
MEDIAN SALES PRICE Comparing August 2022 to August 2021 (year over year)
Single-Family: 7.1 percent INCREASE
August 2022 = $910,000
August 2021 = $850,000
Condos/Townhomes: 12.6 percent INCREASE
August 2022 = $625,000
August 2021 = $555,000
Related Posts
• Compass Named Best Brokerage by Volume • On the heels of…

• January 2023 Update on San Diego Real Estate Trends in Mid-Winter…

• December 2022 Update on San Diego Real Estate Trends in Early…