• What to Look for on a Home Tour During Showings & Open Houses •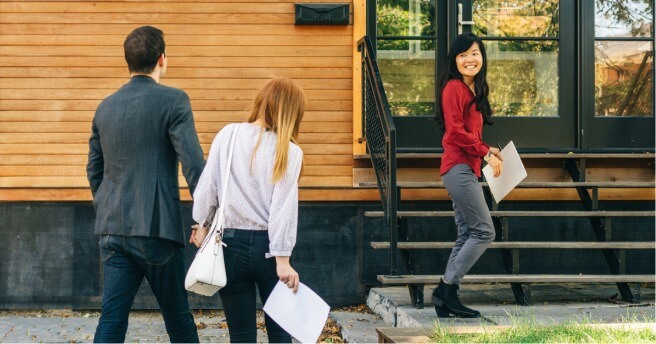 Some people love checking out open houses and touring homes. Others hate it so much they can't even watch "House Hunters" on HGTV without getting stressed.
Whichever camp you fall in, we've rounded up some pro tips to prepare you for the big home tour.
Here are Reali's top five most helpful tips for touring a home:
Tip #1: Explore the Neighborhood
What's your ideal neighborhood? A lot of home buyers don't stop to ask themselves this question. They're so focused on finding the perfect home that they forget to take a hard look at the neighborhood surrounding it.
But researching a potential neighborhood before you even schedule a home visit is a great idea. You can get to know the area independent of the home because both are important. Don't just rely on Google. Get out there and do some onthe-ground investigating. Once you're there, ask yourself some hard-hitting questions like:
Can you see yourself living in this neighborhood?
What does it look like after the sun goes down?
Can I walk my dog nearby?
How long (or short) will my commute to work be?
If you have kids, where would they go to school?
If walkability is important or you're big on public transit, do some research on what train or bus stations are nearby.
If you're a foodie, what restaurant options are there to choose from? And will they deliver? You get the idea.
Tip #2: Create a Checklist
You know the saying: Never grocery shop while you're hungry.
Well, the Reali team has a similar saying when it comes to home shopping: Don't visit a home without your checklist. A list will help you keep your priorities straight.
What should you add to your checklist? Everything you're looking for in a home from the square footage you desire, the number of bedrooms, even the number of parking spots you need. You should have must-haves but keep an open mind. The list should be realistic and help you narrow your search — and not make it more difficult to find a home.
Tip #3: Find the Opportunity
Truth: It's sometimes hard to unsee someone else's furniture in a space. But dig deep.
House hunting is all about the hunt. And that means you'll sometimes have to look beyond the vertical blinds or carpet when all you want is hardwood flooring and plantation shutters.
Also, resist the urge to take your own photos during the tour. The listing agent will have photos available for you to reference again later. It's important to be as present as possible during the tour so you can take it all in.
Tip #4: Imagine the Space
Ask your Reali Agent for some advice. They've worked with hundreds of buyers and will help you think about ways you can utilize a space.
Tip #5: Ask Questions
Remember that checklist? Now's the time to make sure all your questions get answered in detail. A home is a significant investment, so don't be shy. If you think you're ready to make your move and place an offer, there's even more reason to ask all your questions now.
Which is all to say: there is no right or wrong way to tour a home. A home may seem like a great fit on paper, but once you're inside, you just know it's not the one. If so, keep up the search.
Found the home of your dreams and ready to take a tour? Reach out and schedule a tour. 
The Bottom Line
Call us at 858.880.0195 or email portia.green@compass.com to get started.

Related Posts
• Are We Doomed to High Interest Forever? • When the pandemic…

• How to Buy a House with an ADU to Lease as…

• Weighing the Perks & Risks of FHA 203k Loans • Shopping…